On Luke 16:19-31
I like to feast. That's probably becoming more apparent as my girth expands. That's because I feast too much. My Sicilian rector once observed that I am "a good fork." God be merciful to me, the sinner.
But it's not a bad thing to feast and to celebrate on occasion. Feasting itself is a good thing.
Recall the parable of the prodigal son. What does the father do when his son finally returns home to him? He kills the fatted calf and feasts and celebrates with his beloved child.
Jesus himself attends and contributes to a wedding feast in Cana.
The Church gets in on this too. We feast. We celebrate. On every icon screen are twelve icons of events we call 'feasts." We call them feasts because they celebrate events that call for a feast. Above all, this refers to the eucharistic feast of the divine liturgy – but it also carries the sense of celebrating and sharing a good meal with friends and family. There's a time to fast and a time to relax our fasting, to cut loose and party. This is part of what's good about being human and being children of God.
The first Franciscans were no Friar Tucks. They fasted severely and practiced strict asceticism. So much so that one day Brother Morico came to St. Francis and asked him if they should fast even on Christmas Day, because it fell on a Friday.  St. Francis was flabbergasted. Fast?! "On the day on which the Child was born to us? It is my wish," he said, "that even the walls should eat meat on such a day, and if they cannot, we should smear the walls with meat!"[i] Francis, it would seem, recognized that here is a time for feasting – and even for rather extravagant feasting.
But today's gospel begins with feasting of another kind. Jesus says, "There was a rich man, who was clothed in purple and fine linen and who feasted sumptuously every day" (Luke 16:19). He not only feasted, but feasted sumptuously, and he not only feasted sumptuously at times in celebration of great occasions, but feasted "every day!"
And furthermore, he acted in this way while the poor man Lazarus lay starving and full of sores just outside his gate (Luke 16:20). He did not ask this man in. He did not invite him to join his feast or send any portion to him at the gate. This is grotesque.
The prophet Amos saw grotesque imbalance like this in his day. He was a simple shepherd called by God to speak against corruption and injustice at a time of great material wealth and decadence. He says,
Woe to those who… eat lambs from the flock, and calves from the midst of the stall… who drink wine in bowls, and anoint themselves with the finest oils, but are not grieved over the ruin of Joseph! Therefore they shall now be the first of those to go into exile, and [their] revelry… shall pass away (Amos 6:4-7).
And we continue to see imbalance like this in our own day. Being as well sated as many of us are – as I am – can render us insensible to the sufferings of others. Too much comfort can blind us to the discomfort of the poor and needy. Perhaps we hate to be reminded of that because it disturbs our precious comfort.
The tradition of the Church gives us a remedy we ignore at our peril – a remedy that may well have saved the rich man from his torment in the flames had he observed it faithfully: a balanced cycle of feasting and fasting.
We celebrate occasional feasts as expressions of our joy in the Lord. Note that this feasting is occasional. We are not to feast every day, like the rich man. Cookies aren't for every day, as Pani Katie tells the children and me, but only for special occasions. I should probably listen to her. And when we feast, let's also remember that the less fortunate are always invited and welcome to join us.
And to balance this feasting, the Church invites us also to many days and seasons of fasting. Count them all up and about half the days of the year are fast days. Half and half. This is a balance.
Fasting is for many reasons, but sometimes we forget the reason of justice. We fast to humble ourselves before the Lord. We fast to train ourselves in virtue and to cleanse our hearts of vanity. We fast also so that we will have more to give. Fasting is to enable giving. Proper fasting consists in consuming less, which means spending less money. These savings are not meant to pad our investment accounts. They're meant to be given to the poor.
The Shepherd of Hermas tells us,
You must taste nothing except bread and water on the day on which you fast. Then, you must estimate the cost of the food you would have eaten on that day…, and give it to a widow or an orphan or someone in need. In this way you will become humble-minded (Herm 56: 6-8).
This is good and practical advice for us if we are to avoid the tormented condition of the rich man in today's parable. We might consider drawing up a more austere grocery budget during the fasting seasons and giving the savings to Food for the Poor or to another charitable organization. Or, better yet, giving it directly to those in need in our communities.
Our next fasting season, which will be in preparation for the feast of the birth of our Lord, begins in less than a month, so give this some thought.
Each fasting season ends with a feast. And a life lived simply in the Lord, without flaunting extravagance in the face of the poor, but rather sharing all that we have with those in need, will end at the heavenly banquet table with Abraham, Isaac, and Jacob (Matt 8:11).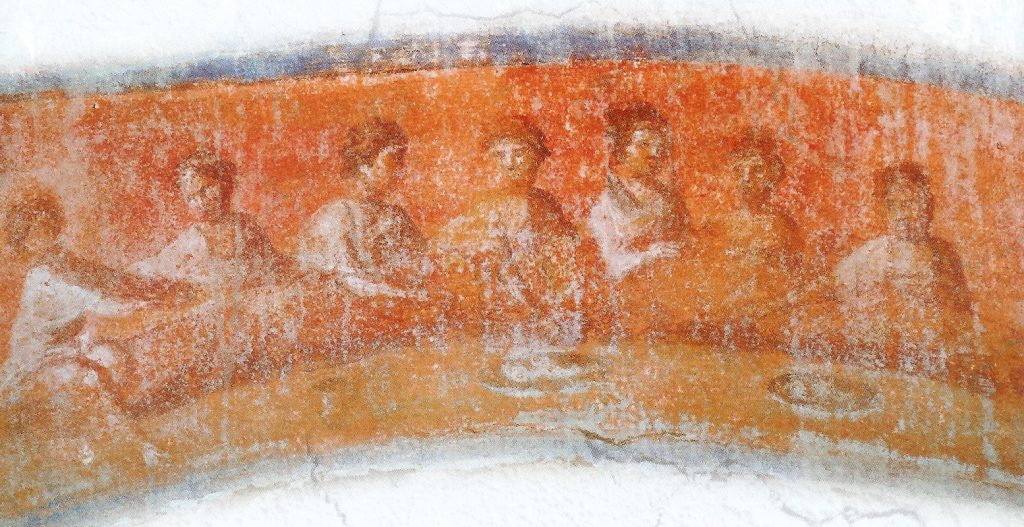 ---
[i] Saint Francis of Assisi, Celano, Second Life, Chapter CLI