Come and venerate the holy cross, upon which Life died so that, though we die, in Him we will still live.
September 13th, 2019 at 7 o'clock in the evening
(The All-Night Vigil is a combination of Great Vespers and Matins for the feast and does not actually take all night.We will abbreviate it to about a couple hours)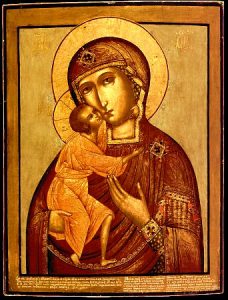 The Paraklesis is a truly beautiful and deeply moving prayer to Mary, the Mother of God. If anyone is sorrowful, if anyone is struggling with the passions, if anyone is sick, come and take refuge in supplication to the Theotokos.
This office may be offered at any time, but it is particularly appropriate during the Dormition Fast. The service has four suggested Gospel readings. At St. Stephen, we will offer this service four times, once with each Gospel.
Last night was the first one. Next, we will pray the Paraklesis
at 9am before Divine Liturgy on Saturday, Aug. 3rd,
at 9am before Divine Liturgy on Saturday, August 10th, and
at 9am before Divine Liturgy on Sunday August 11th (instead of Third Hour).