All around us, the leaves are dying and falling from their trees. The days are shortening and sunset comes earlier each day. We've given up trying to save daylight, whatever that means.
The Western Church has just finished their celebration of Allhallowtide. That is, Hallowe'en, All Hallows' Day, and All Souls' Day – the Days of the Dead – during which they remember all those who have died – first all the martyrs and saints, and then all the departed. This seems like an appropriate season for reflecting upon death, as nature itself is falling asleep and darkening.
We celebrate All Saints too, of course, on the Sunday after Pentecost. And we remember and pray for all the departed on Souls Saturdays – usually five times a year. So, we've got that covered.
As a priest, I also have the opportunity to remember those who have died at every Divine Liturgy. If you wonder what I am doing quietly in the altar at the table of preparation before the Divine Liturgy begins, among other things, I am praying for the dead. That is when I quietly celebrate the Πρόθεσις or Προσκομιδή, during which I prepare the bread and wine to be offered for the Eucharist. As a part of that rite, I place particles on the diskos for the Theotokos and all the saints – who have died – and also particles for those among the living and among the dead for whom you have asked me to pray or for whom I wish to pray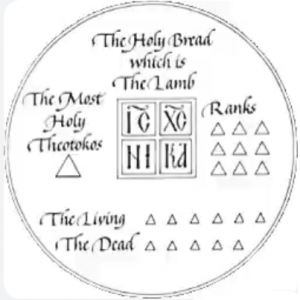 There are now more among the departed for me to remember. This week, I attended two funerals – one for Katie's grandmother, who was 106 years old, and another for Joe Katona, a friend and parishioner for St. Michael's in Toledo. He made a lot of that kolbasz that many of you ordered for last Pascha. So, we pray for them among the departed now. On the diskos, two less particles in the row for the living and two more in the row for the dead.
I also remember at every Divine Liturgy some who died very young. One was a classmate in his twenties. Another was a teenage girl. We know not the hour. Many of us – probably most of us – have been close to someone who has died. We can sympathize with the mourners in today's Gospel.
The 12-year-old daughter of Jairus was young, but she was dying and, while Jesus was occupied with the healing of another woman, she did die. A man from Jairus's house came and said, "Your daughter is dead. Do not trouble the teacher anymore." The mourners gathered swiftly. Already by the time that Jesus reached the house, there were many there weeping and bewailing her.
Death can have this kind of effect on us. I remember suddenly getting a text message that a mentor and friend of mine had died. I immediately fell to the ground. Sometimes there's an automatic physical response like that to grief. Sometimes there's not. There's no right or wrong way to feel when we hear that someone has died.
Death is a mystery. We think we know something about it but today our Lord shows us that even what we think we know we don't know, actually. One thing we think we know is that there's no point intervening anymore after a person has died. As the man said, "Your daughter is dead – do not trouble the teacher anymore." As if being dead meant that the Lord wasn't going to have something to say or do about it. I mean, that makes sense to us. We have a real tendency to think of death as the period at the end of the sentence – that beyond which there is nothing more to say – or that beyond which point there's nothing we can do.
The people know that the girl is dead. These people know what death looks like – they were not so insulated from death as we tend to be – and the gospel doesn't say that the people think the girl is dead but that they know she is dead. But then Jesus comes and says that the girl is not dead, but only sleeping. So they laugh at him. Doesn't Jesus know the difference between sleep and death?
Well, Jesus knows the way things really are, well beyond the understanding available to those of a worldly mind. Remember, he is the God who calls the things that are not as though they are – who calls into existence the things that did not exist – who gives life to the dead (Rom 4:17). So, when Jesus says the dead are sleeping, he need only wake them up. And when someone has died and there remains no more hope, we can hope against hope because we have such a God as this – a God for whom death is equivalent to sleep (Rom 4:18).
The Lord does just this. He takes the girl by the hand and wakes her up, calling to her, "Child, arise!"
The Lord was prepared to call her death sleep – to call a thing that was not as though it was – and thus to make it so. Remember that he is the word of God through whom all things are made.
When Jesus calls her to arise, her spirit returns to her and she gets up at once. Now, death is the unnatural separation of the spirit from the body. James says, "The body without the spirit is dead" (2:26). So, if her spirit had left her, such that it could return when Jesus called, she had indeed died.
Death is a mystery – but God reveals something of it to us. Our Lord has not left us entirely in the dark about death. Remember, Jesus Christ himself experiences death and rises up from it. He knows about death both in his omniscience as God and as a human in the only way that a human could know about such a thing – by experience. Also, the Holy Spirit reveals to us some facets of the mystery of death through the scripture he inspires (2 Tim 3:16).
From scripture and the witness of Jesus Christ's death and resurrection, we can see that death is not annihilation. Atheists will say that what we are after death is just the same as what we are before conception – nothing. But the Lord through the scripture makes it clear that we are everlasting creatures. We begin but we do not end, regardless of whatever we may think, say, or do.
Scripture compares death to sleep. It was revealed to Daniel that "many of those who sleep in the dust of the earth shall awake, some to everlasting life, and some to shame and everlasting contempt" (12:2). And listen to what Paul says to the Thessalonians, as we read at every funeral:
We would not have you ignorant, brethren, concerning those who are asleep, that you may not grieve as others do who have no hope. For since we believe that Jesus died and rose again, even so, through Jesus, God will bring with him those who have fallen asleep. For this we declare to you by the word of the Lord, that we who are alive, who are left until the coming of the Lord, shall not precede those who have fallen asleep (1Th 4:13-15).
Paul often uses the terms death and sleep interchangeably, as does Jesus when referring to the death of his friend Lazarus. Death can be compared to sleep mostly because every time we go to sleep, we wake up again. And in the light of the resurrection of Jesus Christ, it becomes clear that we can say the same thing about death: we die, but we wake up again.
Yet, this metaphor of death as sleep can be taken too far. For example, death is not unconsciousness. It is not annihilation, and it is not unconsciousness either. The week before last, we heard the story of the rich man and Lazarus, who die and have two very different experiences, which make it clear that those who have died are not experiencing unconsciousness but are aware of what's going on – among the living as well as among the dead – and are able to communicate with one another. Notice that Abraham speaks about Moses and the Prophets – people who were born and lived and died long after Abraham himself had died – making it clear that Abraham has been aware of goings on among the living all along since his death.
Speaking of Moses, the consciousness of those who have died is apparent also from the fact that, at the Transfiguration of Jesus, Moses talks with Jesus (Luke 9). Now, the unconscious would not be able to carry on such a meaningful conversation about what Jesus was to do in Jerusalem. So, the dead are not asleep in the sense of being unconscious, but asleep in the sense of waiting to wake up.
Therefore, we remain in meaningful communion with those who have died. Death does not end our relationships, our friendship, or our love.
We are going to die, but, rest assured, having died, we will one day hear, as did the daughter of Jairus, "Child, arise!"